Leica GSD Single Molecule Localization by Ground-State Depletion (dSTORM)
Based on standard immunostaining techniques it is a flexible system that combines TIRF and epifluorescence with single molecule localization imaging achieving a lateral resolution of up to 20 nm.  Customized for N&B application on live cells.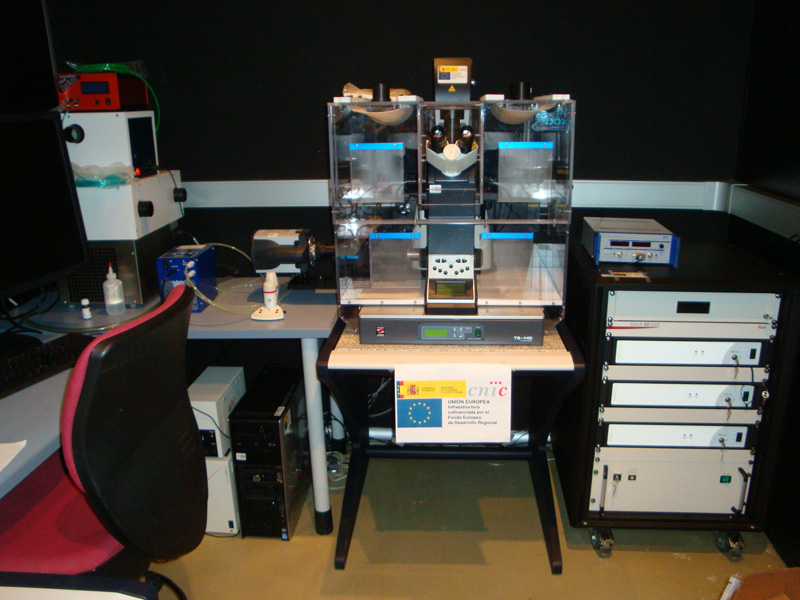 Applications
dSTORM/GSD (Ground-State Depletion), TIRF, N&B, wide field microscopy
Software
LAS AF V 4.0.0. 11706
Objectives
HCX PL APO 160x NA 1.43 Oil
HCX PL APO 20x NA 0.7 Dry
Incubator
Large size incubator for temperature and CO2 control
Stages
Manual in XY, Motorized stage in Z axis
Sample Setup
35 mm Petri dishes and standard microscope slides
Illumination Source
High power solid state diode lasers:
405 nm (30mW)
488 nm (300mW)
532 nm (500mW)
642 nm (500mW)
Intensilight fluorescence lamp
Detectors/Cameras
EMCCD back-illuminated camera ANDOR iXON Ultra DU897
Configuration
Inverted
Filters
QGS: Blue, Green, Red, FarRed:
     Exc: 400-410; 483-493; 527-537; 637-647.
     Dichroic: 417; 496; 544; 655.
     Em: 421-477; 497-519; 547-621; 666-732.