SanXoT software package
From PROTEOMICA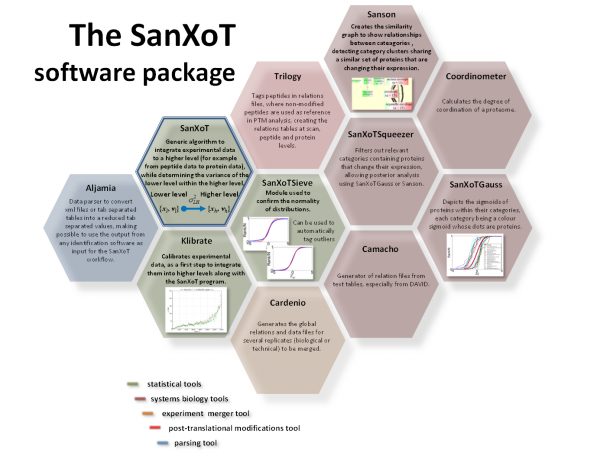 The SanXoT software package is a bioinformatic resource made in the Cardiovascular Proteomics Lab at CNIC to build workflows for quantitative high-throughput proteomics, systems biology and the statistical analysis, integration and comparison of experiments.
Download
You can download windows standalone executables or the source code from GitHub: https://github.com/CNIC-Proteomics/SanXoT
Getting started
You can check how to use SanXoT for a general overview of the package, its design, data structure and building of workflows.
Unit test
You can check the unit tests for SanXoT or explore SanXoT features.
Programs included
For performing statistics:

SanXoT, the central program, performing the integration of any lower level set of data, to any higher level set of data.
SanXoTSieve, tool for detecting outliers in a SanXoT integration.
Klibrate, calculator of the constant k for the inital calibration of data.

Systems biology specific:

To integrate experiments:

Cardenio, to generate the global relations and data files for several replicates (biological or technical) to be merged.
For post-translational modifications:
Trilogy, to tag peptides in relations files where non-modified peptides are used as reference in PTM analysis.

For other functions:
Licence
You can check at PROTEOMICA:Copyrights the licence under which all the programs presented here are available.