Managing
Alberto Sanz Belmar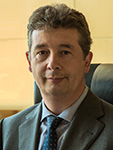 Alberto Sanz Belmar holds a Bachelor's Degree in Economics and Business Studies —with specialization in monetary and public-sector economics— from the Universidad Complutense de Madrid, a Masters in Finance from the Universidad Politécnica de Madrid, and a Masters in Professional English.
He has also completed complementary training in business management, finance, management control, human resources, information technology and technological project management.
He began his professional career in the Spanish Treasury Department (Ministerio de Hacienda; 1988). Following a move to the private sector (1990), he accumulated broad experience —mostly in the chemical and pharmaceutical industries— in posts of the highest responsibility in the areas of administration, finance, management control, internal auditing, operations, human resources and computing, both in multinational and in national companies and charitable foundations. During his career he has also overseen the implementation of several systems for enterprise resource planning (ERP).
Alberto joined the CNIC in 2005 as Finance Director, taking up the post of Managing Director in 2008.