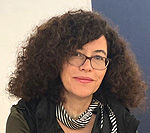 Group leader
Ext. 2020
Almudena R Ramiro (Madrid, 1971) se licenció en Bioquímica y Biología Molecular en la Universidad Autónoma de Madrid en 1994 y obtuvo su título de Doctora en Ciencias y Premio Extraordinario de Tesis Doctoral en la misma universidad en 2000. En 2001 Ramiro se incorporó al laboratorio del Dr Michel Nussenzweig en la Universidad Rockefeller (Nueva York, EEUU), donde realizó su trabajo postdoctoral, financiado por el Ministerio de Educación y Ciencia. Durante este periodo su trabajo se centró en la función de la deaminasa inducida por activación (AID, Activation Induced Deaminase) en la diversificación de anticuerpos y estableció el papel de AID en la generación de translocaciones cromosómicas.
En 2006 Ramiro se incorporó al Centro Nacional de Investigaciones Oncológicas (CNIO) como Jefe de Grupo Junior, donde estudió distintos aspectos de los linfocitos B de centro germinal, tales como el papel regulador de microRNAs y los mecanismos moleculares que dan lugar a patologías autoinmunes y cáncer. Desde 2011 lidera el laboratorio de Biología de Linfocitos B en el Centro Nacional de Investigaciones Cardiovasculares.
Ramiro obtuvo un contrato Ramón y Cajal en 2004 y una Plaza de Científico Titular del CSIC en 2007. En 2006 recibió el premio Fundación Biogen Idec Jóvenes Investigadores por su trabajo "Role of genomic instability and p53 in AID-induced c-myc/IgH translocations" publicado en la revista Nature. En 2007 Ramiro recibió una ERC Starting Grant.